Start Your Smile Transformation with Our Oak Park Dental Implants and Other Available Services
Restoration Dental is here to give you the smile you've dreamed of! We're proud to serve the Oak Park community by providing exceptional dental services and attentive patient care.
Dr. Matthew Gray
specializes in a wide variety of dental services including general, cosmetic, and advanced dentistry. We help you get back to your healthy smile through restorative services or improve the appearance of your smile through simple cosmetic adjustments. Call our team to learn more about how we can help you achieve the smile you deserve.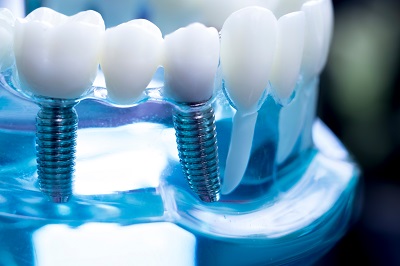 If you've suffered from tooth loss due to severe decay or injury, you may be eligible for our
Oak Park dental implants
! Implants are an excellent way to improve your oral health and the appearance of your smile. With dental implants, you'll achieve a natural-looking smile that helps you chew and speak clearly. This restorative service works just like natural teeth and seamlessly blend in with the rest of your smile. Ask Dr. Gray if dental implants are the right choice for your smile by scheduling a consultation today!
Dental implants use titanium screws to connect to your jawline. This material is unique because it fuses to your jaw over time. Once the screw has fused permanently in place, Dr. Gray attaches a porcelain crown that perfectly resembles your natural tooth. These crowns are custom made to match your smile and make your teeth look good as new. Many patients prefer dental implants over other restorative options because they offer a comfort and security that other treatments don't. Talk to our team about your dental goals and what restorative options would be best for your smile and lifestyle.
When it comes to caring for your dental implant, you should stick to a proper dental care routine. Implants need all the same care and attention as your natural teeth, so be sure to follow advice from Dr. Gray on your smile needs. This typically means brushing twice per day with fluoride toothpaste, flossing daily, rinsing with mouthwash, and visiting our office every six months for a proper dental cleaning. Plaque and tartar build up on your implant just like your real smile, so you'll need to have a proper dental cleaning twice per year to have it professionally removed.
Our
Oak Park dental implants
may not be right for every smile, so be sure to schedule a consultation with us to find out if they would be the right option for you. Reach us by calling the office at (248) 399-1200 or by filling out a contact form directly on our site and a member of our team will get in touch with you. We look forward to helping you achieve the smile you deserve! Call today to book your consultation.